Compress JPEG To 200kb | Pi7 Image Compressor
---
Total Compressed Images: 800390
How To Compress JPEG To 200kb?
For Compress Jpeg To 200kb Select Images From Your Phone Or Computer.
Enter Image Size In The Input Box.
Wait For The Uploading And Compression To finish.
Download Compressed Image By Click On "Download JPEG" Or "Download All Files as Zip" Button.
Note: One Time Limit To Compress Image With This Tool Is Is 10 And Filesize Limit Is 30Mb.
---
Image Compressor Online Tool
Compress JPEG to 200kb With Image Compressor. You can also specify another image size in the input field. You can also compress multiple images simultaneously and compress image to desired size.
For Compress Image select the images in the Image Compressor, thumbnail will display in a white box with their name after selection. You can also remove the selected images by click on the 'X' button on the top-right side of the image.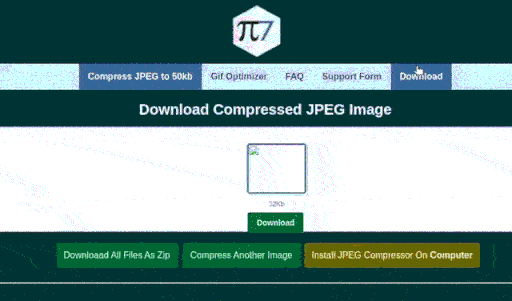 Moving further, For set the image size to 200kb in the input box. You can also add more photos to the Image Compressor that you want to compress (the one-time limit is 10). Click on the "Compress JPEG" button. Now, you can now download compressed images one by one or in the zip file to your computer or mobile.
Image Compressor is a powerful online tool that allows you to dramatically compress JPEG to 200kb while maintaining high quality with no difference before and after compression of image. You can compress image files free of cost and easily with this tool. It is a very fast and reliable tool for compress online images.
---
Related Links
---
© Pi7 Productions
| Privacy Policy | Contact Us | Text Sitemap | XML Sitemap