Collab Edit - Online Code Editor
Collab edit is described as "a collaborative, real-time code editor in the browser. It supports syntax highlighting for multiple programming languages like java, python, javascript, etc. Collab edit has simple and advanced features like chat, a superuser system, no registration is required and is very easy to use.
Pi7 collab is a free and online collaborative code editor. On this platform, you can share code online with your team or students. Collaborative coding is mostly used by students and teachers. This tool is also free for business use.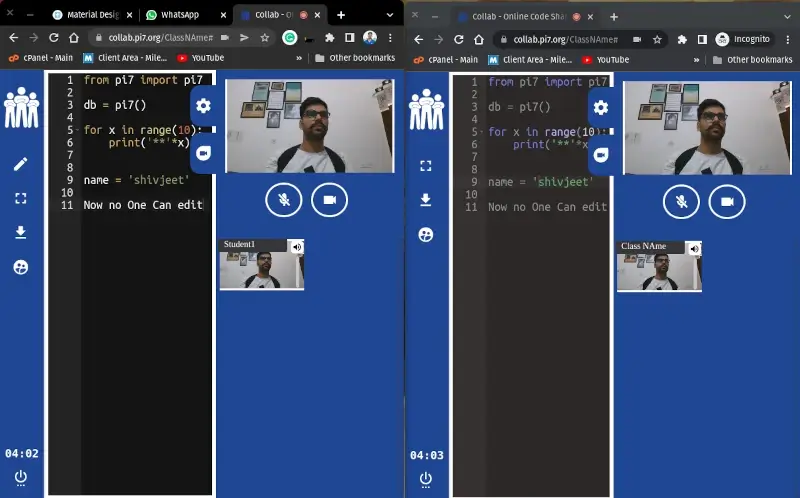 Collaborative Code Editor provides the feature of online video and audio calls during coding. which makes it easy to communicate during editing
The tool provides advanced features like autocomplete snippets or syntax of more than 100+ programming languages. Also, multiple themes in collab edit provide an excellent live coding environment for users. After coding developer can download his/her work easily. This online code editor support unlimited users in your collab.
Try the Colab Edit web app now, just click the button below to create a document and share the document link with your team.
Create New File
Features Of Collab Edit
Share Code With Team/Students Online
Collab Edit Is Online And Free
Syntax Highlighting In Editor
Video And Audio Call
Online Live Chat With Coding
Code Editor Support More Than 100+ Programming Languages
Autocomplete Code
Support Unlimted Team Members
Team Managed By Super User
Fast And Instant Update
Guide To Use Collab Edit
Here is a simple youtube tutorial of how to use the collab edit and share code with team.